From just 2500 THB (75 USD)/ person per day this is agreat alternative to hotels and group island hopping tours for same cost! And you get all the privacy and comfort of modern yacht cruising and total freedom in choosing Koh Chang (October-May) or Samui (May-September) Archipelago islands you want to visit and explore! Koh Mak, Koh Kood, Koh Wai, Koh Chang, Koh Tao, Koh Phangan, An Thong National park...there are plenty to choose from sample itineraries!
Can't skipper a boat? No problem! Our experienced skippers will be at your service guarantee your sailing vacation is smooth, fun, and unforgetable!
Bavaria 33
( 2007) 2 cabins 4-6 guests
from 185 EUR+ /day
KOH CHANG /WEEK :
Oct -Nov 1700 EUR.+

Dec-Jan 1900 EUR.+

Dec 20-Jan 5 - 2700 EUR. +

Feb- March 1900 EUR.+

Aprl-May -1400 EUR.+
SAMUI/ WEEK:
skipper 150 EUR/day +food
Displacement 11880 lbs/ 5800kg

LOA 33ft /10.65 meters

Beam 11.4ft/ 3.48 meters

Draft 6.10 ft/ 1.85 meters

Fuel 25gal/ 95 liters

Water 259 liters

Crusing speed 6 knots
Autopilot, Chart Plotter, Depth, Wind, Speed instruments, Gas stove, BBQ, Refrigirator, USB player
This is a big 33-footer that will provide bona fide competition for many 35-footers in the accommodation stakes. With just two cabins, it doesn't compromise, and that giant cockpit storage locker will ensure everything follows you to your destination.
The lighter mahogany joinery, the blue upholstery, the new forward skylights, the deck hatches with shade screens, the abundant opening portlights and close to two metres of headroom all help make this a cheery 33-footer below.The counters have fiddle rails and, together with various handholds, this is an easy yacht to move through in a seaway. The big settees, which can easily seat eight people before the dinette with folding leaf, can be used as seacots. Storage lockers and drinkholders are plentiful in the saloon, too.
Accommodation is split between fore and aft double berths, each with storage lockers and hanging space, and head room at the foot of their beds.
The helm is balanced, the vision forward pretty good, and the yacht gets along in a determined manner. Nothing too racy, but speeds will be fast enough to get you to where you are going. In many ways, the 33 is all you'll ever need. It's a big little yacht perfect for a family of four or two couples, built to CE Category A for offshore work, with a reassuringly sturdy and predictable motion through the water.
Jeanneau Sun Odyssey 33i Performance
(2012) 2 cabins 4-6 guests
from 214 EUR+ /day
KOH CHANG/ WEEK:
Nov 1900 EUR.+

Dec-Jan 2100 EUR.+

Dec 20-Jan 5 3100 EUR.+

Feb- Mar 2100 EUR.+

Apr-May -1900 EUR.+
SAMUI/ WEEK
skipper 150 EUR/day +food
Displacement 4645 kg

LOA 9.96 meters

Beam 3.34 meters

Draft 1.9meters

Fuel 140 liters

Water 170 liters

Crusing speed 7 knots
Autopilot, Chart Plotter, Depth, Wind, Speed instruments, Gas stove, BBQ, Refrigirator, USB player
Serene, you will sit comfortably in the spacious cockpit and enjoy her intuitive handling, her light, reactive wheel steering, and having all sail handling functions within easy reach. Aboard this beautiful sailboat, you will rediscover the pleasure of sailing.Escape the routine and savour the finest moments of cruising. Below, the inviting interior features quality trimmings.You will love her open, practical galley, a true chart table with full functionality, her comfortable and spacious saloon, and a fully equipped shower and head compartment. Each comfortable cabin features large hanging lockers and numerous portholes for a sea view.
Jeanneau Sun Odyssey 409
(2012) 3 cabins 6-8 guests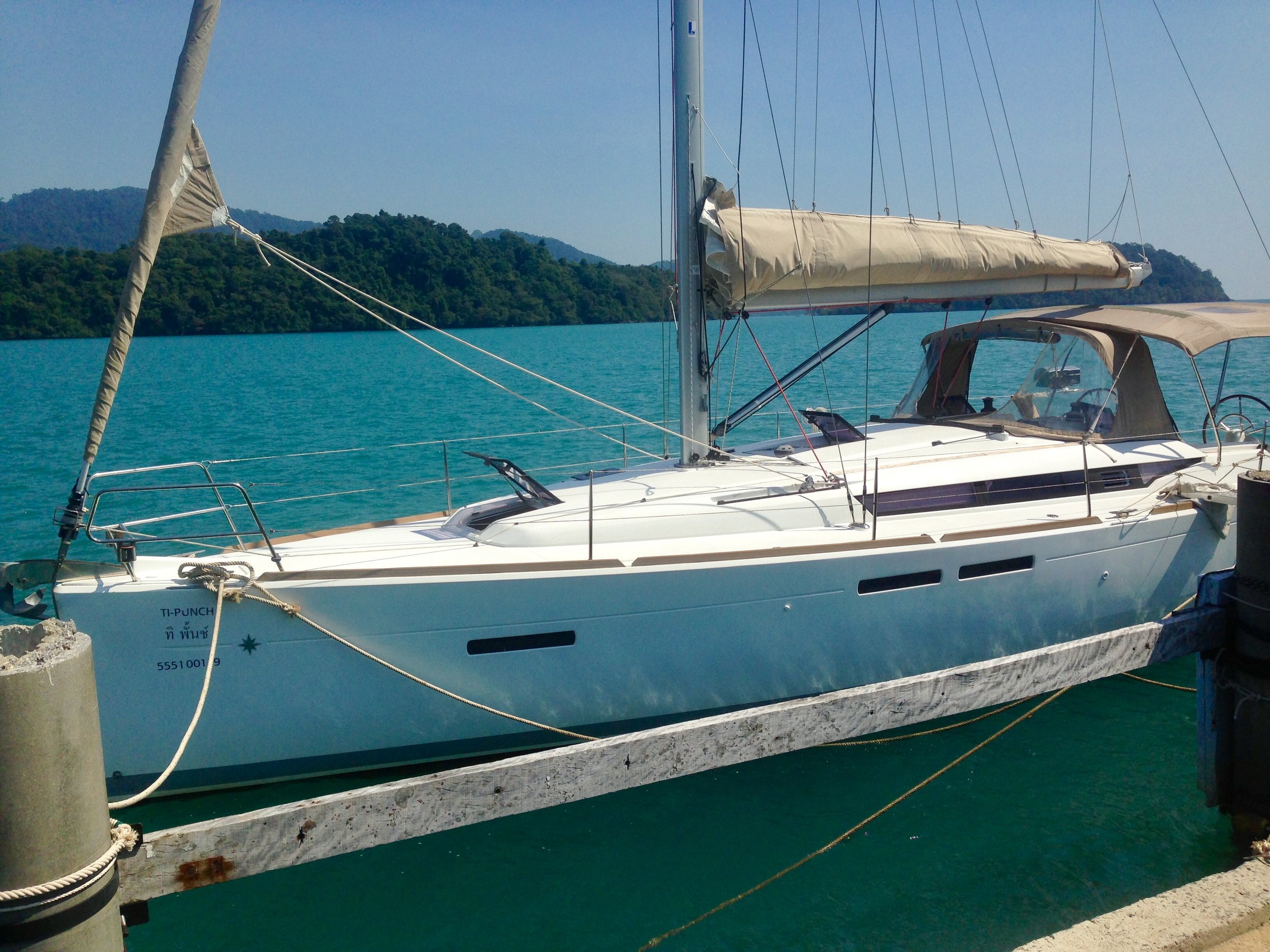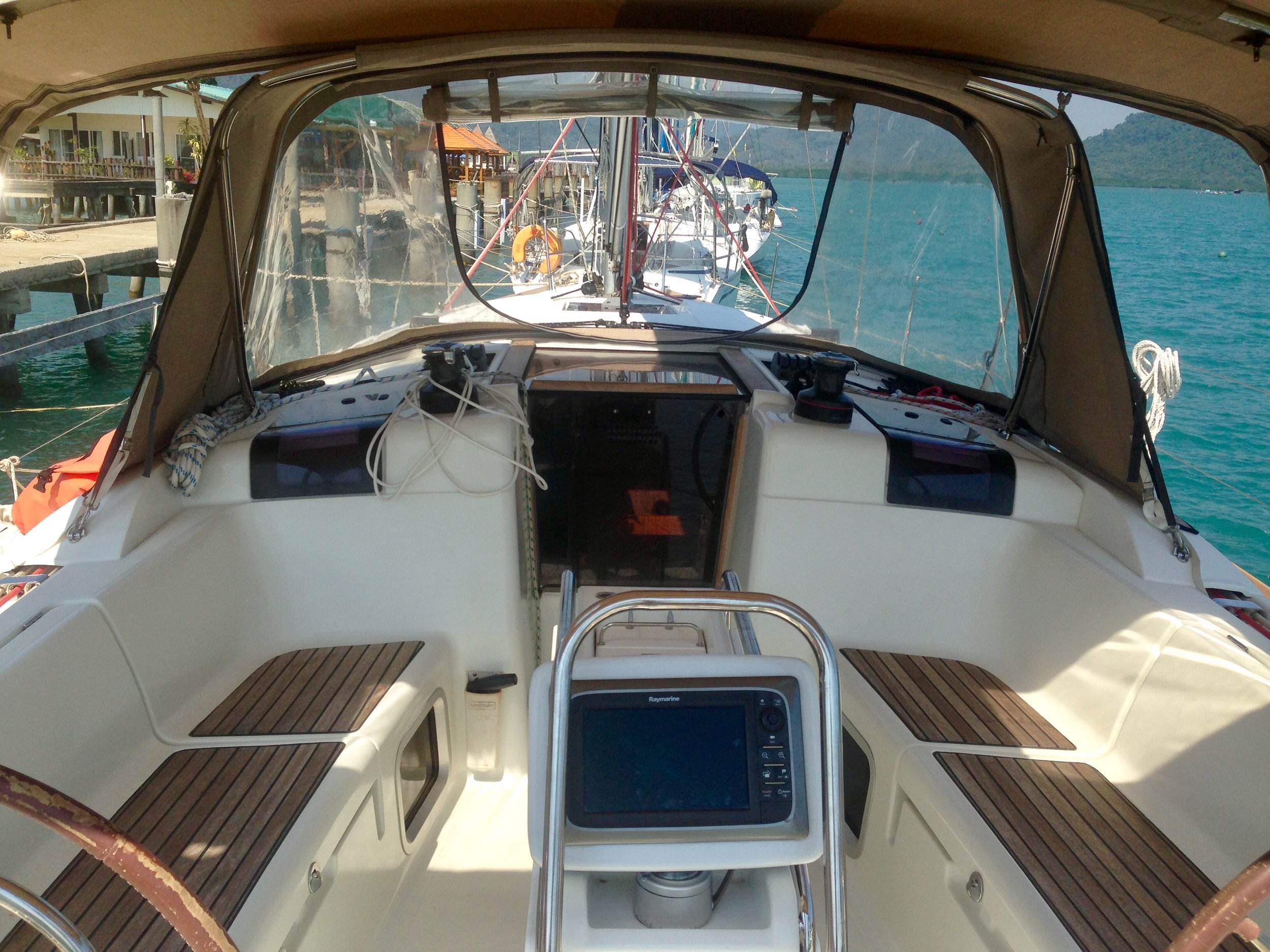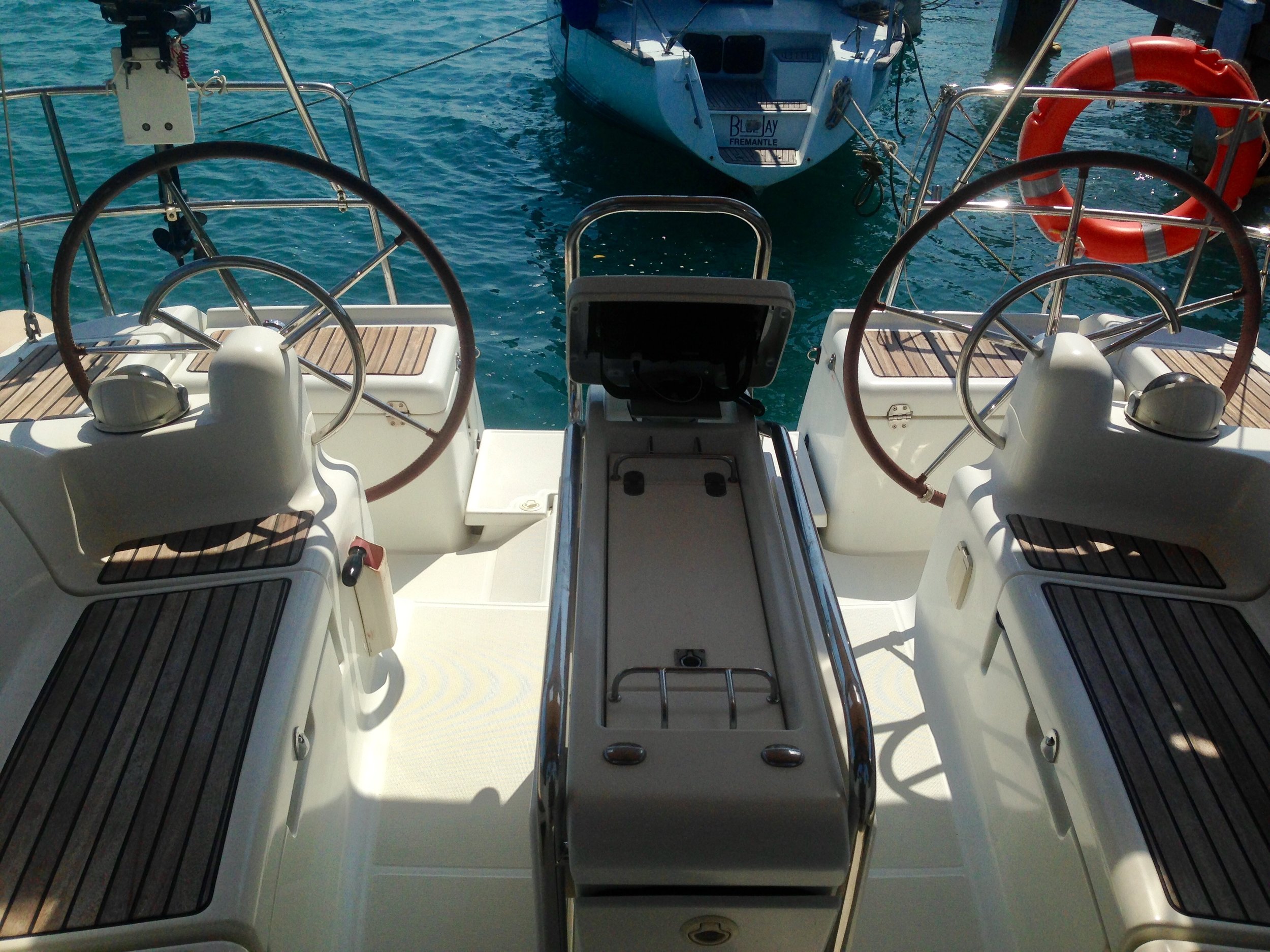 from 270 EUR+ /day
KOH CHANG/ WEEK:
Nov 2700 EUR.+

Dec-Feb 3300 EUR.+

Dec 20-Jan 5 3900 EUR.+

Mar-Apr 2900 EUR.+

May -2200 EUR.+
SAMUI/ WEEK
skipper 150 EUR/day +food
Displacement 7450 kg

LOA 12.34 meters

Beam 3.99 meters

Draft 2.1 meters

Fuel 200 liters

Water 530 liters

Crusing speed 7 knots
Chart Plotter, Depth, Speed instruments, Sonar, Autopilot, Gas stove, BBQ, Refrigirator, CD/DVD, USB player
The 409 cockpit is large and comfortable and well set up for shorthanded sailing. All halyards and lift controls are led aft, and partially under deck, before terminating in a series of clutches on the cabintrunk. The twin-wheel arrangement makes sense on many levels. It opens up the cockpit, provides good site lines on either tack, and offers clean access to the stern step.
The interior is bright, with light teak veneers and plenty of natural light. The L-shaped galley is to starboard and features twin sinks with covers that are also cutting boards, a 12-volt fridge, and a two-burner stove with oven. The galley is separated from the saloon by a partial glass partition.The saloon includes a U-shaped settee to starboard that drapes around a clever and versatile table. Completely extended, it's a dinner table that can seat a crowd, folded in half it becomes a cocktail table, and folded again it becomes part of a lounging area with a built-in bar. It also cleverly folds down to form a spare double berth. Opposite, the settee includes a small table that doubles as a navigation station.
Lagoon 421 Sailing Catamaran
(2014) 4 cabins 8 guests
from 670 EUR+ /day
KOH CHANG/ WEEK:
Nov 5900 EUR.+

Dec-Jan 7100 EUR.+

Dec 20-Jan 5 8100 EUR.+

Feb- Mar 7100 EUR.+

Apr-May -5700 EUR.+
SAMUI/ WEEK
skipper 175 EUR/day +food
Displacement 12170 kg

LOA 12.61 meters

Beam 7.5 meters

Draft 1.26 meters

Fuel 350 liters

Water 600 liters

Crusing speed 8 knots
The immediate impression coming aboard this modern catamaran is one of sheer size and light for an overall airy feeling. It's akin to a modern apartment on water with a chic, uncluttered interior and vertical windows around the saloon front. The latter means there's no direct sunlight into the cabin and you have a clear view looking out.
Another key feature is the roomy cockpit-entertainment area just two steps up from the stern boarding platform and on the one level with the generous-sized saloon. With the large sliding glass doors open you have a brilliant indoor/outdoor living area
But what I love about the Lagoon 42 is the opening up of the interior through bigger, wider hulls, so there's proper double berths in the sleeping cabins. You also have big picture windows and air-vent ports so these sleeping cabins feel light, airy and, with a view, you stay connected with your environment.
Chart Plotter, Depth, Wind, Speed instruments, Autopilot, Gas stove, BBQ, Refrigirator, BT player, Generator, Watermaker, Aircon
Lagoon 380 Sailing Catamaran
(2015) 4 cabins 8 guests
KOH CHANG:
From 930 EUR + /day
Nov -Jan 1120 EUR + /day

Dec 20-Jan 5 - 1200 EUR + /day

Feb-Mar 1040 EUR + / day

Apr-May -930 EUR + /day
this vessel is offered skippered only, fee is included in price
Displacement 15697 lbs/7120 kg

LOA 39.72 ft/11.56 meters

Beam 21.32 /6.53 meters

Draft 3.75ft /1.14 meters

Fuel 52 gal/ 197 liters

Water 79 gal/ 299 liters

Crusing speed 7 knots

four double cabins
Chart Plotter, Depth, Wind, Speed instruments, Autopilot, Gas stove, BBQ, Refrigirator, LCD TV, CD/DVD, USB player
the Lagoon 38 has become one of the most successful catamarans to be built. The latest version has S2 added to its title to emphasise that this it is a boat that has been extensively remodelled and improved upon. Most noticeable is the proliferation of large windows in both cabins and saloon which provide a light and airy atmosphere throughout.To port are two double cabins forward and aft with a good sized heads and shower area amidships. The charter version has a mirror image of this to starboard.The saloon has a table and seating arrangements adequate for eight people. This area can also be used as an additional double berthThe galley is aft facing with a sliding window, which when put back, allows access to a folding table for serving through to the cockpit. It is equipped with double stainless steel sinks, a two burner stove with oven and grill and a refrigerator but no freezer. To port is the instrument panel and a smallish chart table complete with stool.
Hanse 540
(3 cabins) up to 14 guests
From 25 000 THB+/ day @ Samui-Phangan
2 persons day charter , each extra person 2500 THB
Sailning to An Thong Park Islands add 5000 THB
this vessel is offered skippered only and skipper's costs are included in price
Also Included
Roundtrip Resort transfer

Snorkeling Equipment

Welcome cocktail

Fruit & soft drink

Thaï buffet

Snorkeling

Relax on white sandy beaches

Sailing on luxury sailboat

Insurance
Chef Package - additional option
freshly cooked mixed seafood or thai specialities choice between two beers, a glass of wine or prosecco
Price for this option 5 000 THB (flat rate)
We also offer MULTI DAY trips and SAILING AND DIVING packages aboard this vessel
Chart Plotter, Depth, Wind, Speed instruments, Autopilot, Gas stove, BBQ, Refrigirator, LCD TV, CD/DVD, USB player, Air Con, Generator, Optional (xtra charge)Diving Compressor and gear, Water maker
The 540e has a sleek and racy appearance: Just aft is a roomy storage area that's enclosed by a watertight bulkhead between it and the owner's cabin. The garage has ample space for a tender and other water toys.
Speaking of the cockpit, the 540e's working and relaxing space is in the large powerboat or catamaran class. You could comfortably seat 12 in the 540e's cockpit and on aft seats for day sailing, without anyone having to move or duck during tacks and gybes. The pushpit perches seat four and they're cantilevered over the stern, increasing effective deck space.
Below, the Hanse 540e offers a distinct interior with a strong Euro flair. Bold fabrics, white bulkheads, dark Corian counters and sink, and mahogany woodwork play off each other to create a modern, perhaps stark, look. In the saloon, there is a decided lack of fiddles throughout, a reflection of the builder's belief that most meals will be cooked in harbor.
The 540e's companionway is quite steep and best handled in the classic seafaring tradition of backing down. The treads are grooved for grip and a pair of teak handholds makes the task quite safe. The saloon, galley and navigation station fit into a huge, open-plan area, with enough headroom to keep a basketball player bruise free. In fact, the cabin roof handholds are beyond the reach of shorties.
there is a pair of lounge chairs to starboard, complete with recliners and a dinette to port. The galley would do most houses proud, with black quartz tops, a 130lt fridge and 80lt freezer, a three-burner gimballed stove with oven, a microwave, optional wine cooler and stacks of cupboard space. Accommodation in t consists of a pair of double cabins aft, each with its own head and shower, and a full-beam stateroom with island bed for'ard. All the cabins had ample hanging and stowage space.. spacious owner's stateroom forward and two cabins with double berths aft.